If you ever find yourself in Pescadero (and you likely won't - it's not like one simply stumbles into this rural San Mateo County town that has a whopping 643 people living in it), you can't leave without stopping at Harley Farms.

After a weekend getaway at Costanoa Coastal Lodge, we decided to stop here on the drive back to San Francisco. Finding this place was a challenge but that was only because as city dwellers we were not expecting the actual "downtown" area to be so…nonexistent. Luckily there were little signs to help guide us.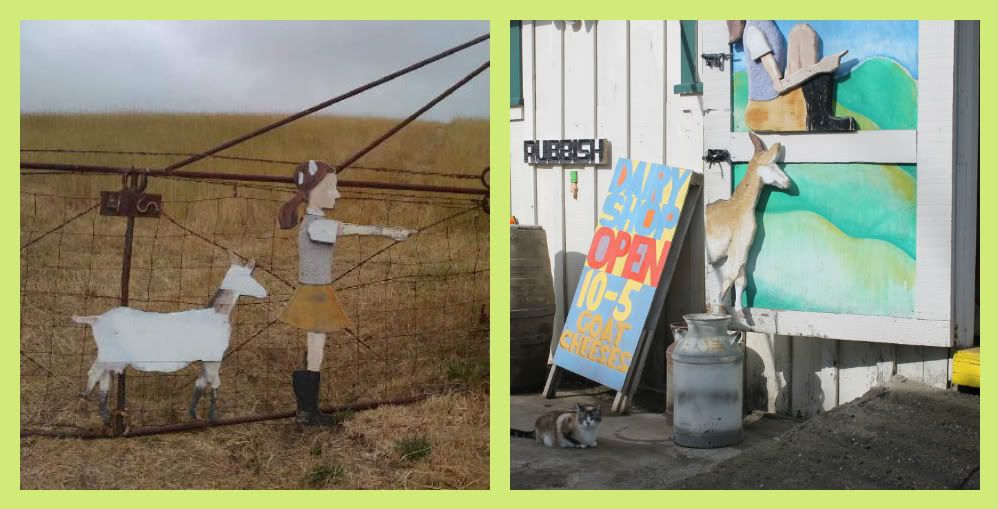 Goat cheese happens to be my favorite kind so I especially liked this place. Chevre, feta, ricotta, and fromage blanc - Harley Farms encourages you to try every kind. Which is fortunate because when I got down to business, I had very little self-restraint. I grabbed one of the cute little woven baskets that lined the entrance wall to hold all the cheese I was about to buy.


Their famous Monet chevre is laden with herbes de provence and embellished with pansies, calendula, and cornflowers - all edible flowers grown in the farm's backyard. No wonder they named it the Monet - it looked too good to eat! But of course I did.


They also have olive oil, honey, jam, chocolate, and even skin care products!



The bill:
2 blocks of feta ($20)
1 apricot pistachio chevre medium round ($8)
1 tomato basil chevre medium round ($8)
1 garden chive chevre log ($8)

I've never felt better about spending $44 on cheese; getting cheese of this quality at a Whole Foods in San Francisco would probably be double the price and only half as fresh. Plus, Whole Foods doesn't have cute little baby goats! Or kids as they're lovingly called.


Cheese can stay fresh for up to one month in an airtight container in the refrigerator and up to six months in the freezer. But good luck trying to hold on to this cheese for that long. I'm already halfway through my tomato basil chevre round and my only regret is not buying more.




For more info, visit the Harley Farms website. For impeccable cheese, simply visit Harley Farms in Pescadero. It will be well worth the drive and the calories.